16 Feb

The 20 Most Important Features of an e-Commerce Website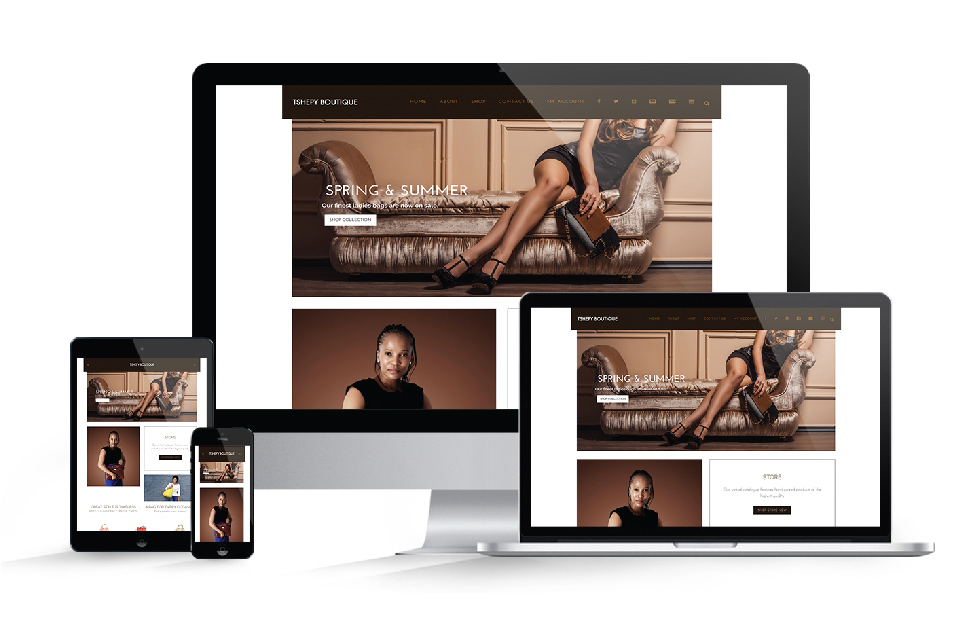 If you are in the market for transforming the way your business DOES business online, investing in an eCommerce website is going to help you convert your site visitors into consumers. We've put together a list of The 20 Most Important Features to look out for when thinking about the overall mechanics of Design, Product Options, User Experience, Shipping Options, Tax, Analytics & Reporting, Customer & Store Management of your eCommerce site. Open source platforms like WooCommerce seamlessly integrate these features to ensure that your potential consumers are successfully guided through the sales funnel and your business continues to thrive.
Design
A Modern and Clean Interface
The initial impression of your site is your first point of opportunity to start the sales process with your visitors. If you are selling high quality and trendy bags for women, it helps to have a site that communicates and presents the essence of those products in a sophisticated, straightforward way. WooCommerce adapts its components to suit the themes, corporate identity and style of your website. We developed a corporate identity for Tshepy Boutique that was easily transferred onto the required eCommerce elements through the Website Design Project phase. More specific customization of the elements are available in the extended version of WooCommerce.
Product Options
Add and Manage Products
Woocommerce makes adding and managing products easy. Users are able to add single, grouped or even virtual product types to their stores making items like '2 for 1' Specials or downloadable PDF's easy to categorise and sell. Dynamic or alternate product views and zoom functionality allow users to easily inspect product images visually.
Specify Product Variables
Specifications like price, colour, size and weight are all available to be added and edited alongside important notifications like 'Out of Stock' or 'On Special'. Good images and detailed information about your product ensure fewer product returns as visitors have a better understanding of what they're getting before checkout. Product information in the backend allows you to keep track of your inventory, orders, returns and cancellations.
Shopping Experience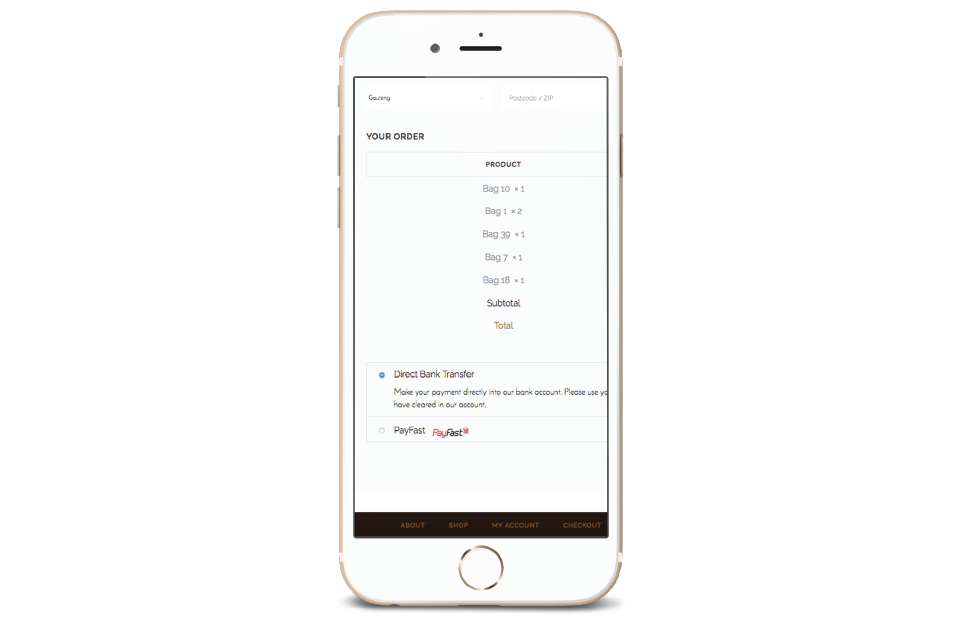 A Variety of Payment Gateways

The more payment options available for the consumer, the more accessible you make the purchase process. Preset payment gateways and integrations include services like Direct Bank Transfer, Cheque Payment, Cash on Delivery, PayPal or Credit Card. A range of default currencies are available to choose from and add ons for South African gateways like payfast can also be installed for added convenience by region.
Controlled Checkout Process
Cart and Checkout pages are are fully integrated with one another to allow the consumer a seamless experience between shopping items now or adding them to your cart for checkout at a later stage. Guest checkout can be disabled to enforce secure transactions.
Geo-Location
Woocommerce's Geo Location Support is able to auto detect customer addresses making shipping and checkout processes easier. This reduces the time it takes for customers to enter in billing information at checkout, leading to less frustration and confusion.
Responsive
Online shoppers are the definition of people 'on the go'. According to the Search Engine Journal, one in three purchases are made via mobile. These consumers need to be able to make a purchase whether they are at home on their laptop or on their phone. Heavy bounce rates occur when your mobile users aren't able to make a purchase easily or view the products well because the screen size and user experience design hasn't catered to ease of use wherever they are. Woocommerce stores are fully responsive and adaptable for mobile application versions.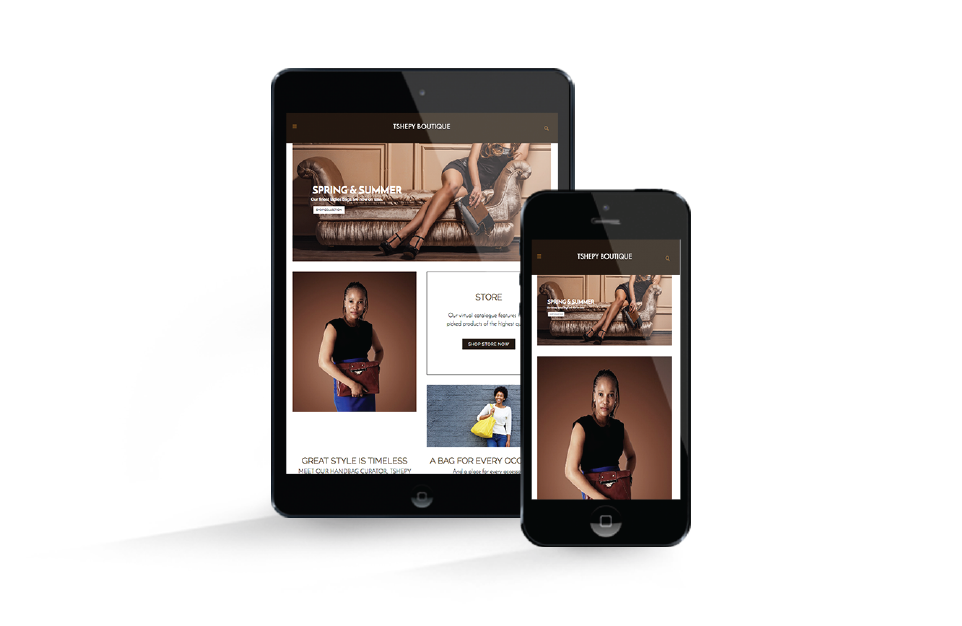 Reduced Site Speed
Imagine the frustration of walking into an empty store and waiting for products to appear on shelves, clothes racks or display cases. If you wouldn't wait for the items to be immediately visually available when you walk in what is there to keep you from walking into the next 'fully loaded' store. This is the exact case with a slow eCommerce site. Your visitor is looking for a fast transaction experience so it it's important to make sure that all the steps from viewing the product to making the payment goes quickly and smoothly. Woocommerce optionally uses AJAX functionality; this means your store won't need to reload each time a visitor adds a product to or edits their cart.
Shipping Options
Shipping Prices, Methods  & Calculations
Add shipping or delivery prices to products as a percentage of the final cart price using the cart calculator. Detail information like Free Shipping, Flat Rate, International Shipping, Local Delivery, Local Pickup or Automatic Shipping which defaults to the cheapest shipping option.
Change or Restrict Shipping Destinations
Specify shipping locations and restrict destinations where shipping is not available. Customers are also given the option to differentiate between delivery to their shipping address or their billing address.
Tax
Calculations and Control
Automate the process of taxes with custom tax calculations that base tax on either your customers billing/shipping addresses or geo-location. Define tax rates as standard, reduced or zero tax rates and choose to display product prices including or excluding tax.
Integrated Marketing & SEO
Search Engine Optimisation
The SEO integration feature gives you the tools and data to market your site and your products by reaching more people and bringing more traffic to your site.
Social Media Integration
The age of social validation is fast on the rise and Facebook, Instagram and Twitter sharing options are integral marketing tool to getting both your products and site to reach more people. Social media sharing buttons bring increased traffic to your site and begin to market your product through the activities of your existing customers when used. People trust people that they know before they are able to invest trust in your brand or your product.
Discount Coupons and Codes
People love to be under the impression that they're saving money, especially when it's for something they really want. Choose from fixed or percentage based coupons for selected products and apply expiration dates to them. Offer discount codes strategically through monthly newsletters or catalogs to encourage traffic and sales.
Related Product Suggestions
This sophisticated additional feature offers good pairings or suggests similar products for your users as a means of 'upselling' your products. Think about the consumer purchasing a phone who might be persuaded to get a cover or a set of earphones for that phone because a) they are already spending money and b) it's a clever pairing.  This technique results in extra revenue generation and also helps customers 'filter' their choices by perhaps going for something similar to what they're already looking at.
Consumer Generated Reviews
Disable or enable customers reviews to allow customers the opportunity to build real world 'proof' of a their experience with your product. Reviews provide a podium for visitors to see how you resolved issues when problems occurred. You can also choose to validate users before they are allowed to review.
Built-in Analytics & Reporting
Reporting
Integrated reporting allows you to see a record of sales and show how well the business is doing. This includes information regarding earnings, growth, refunds, site traffic and sales orders. More comprehensive addons can be installed to get customer histories, cart reports and even campaign recommendations.
Customer Relationship & Store Management
Customer Accounts
Allow new user registration and account creation on your site. Users will be able to get their username and passwords from their email addresses. Choose to allow guest checkout or force account set up to  a) ensure that customer information is collected b) create ease of access for the customer next time they make a purchase and c) provide account security on transactions.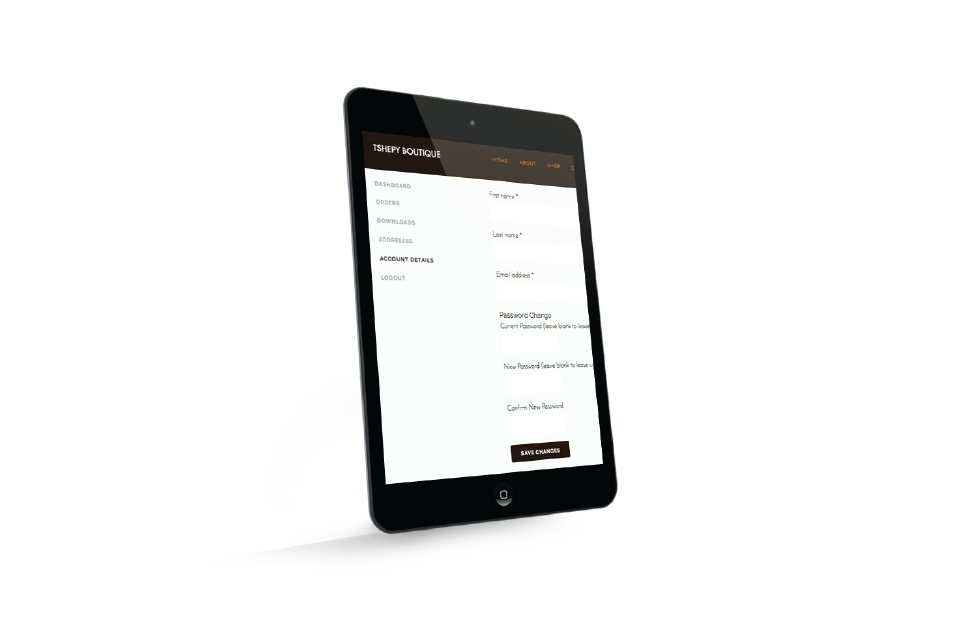 Live Chat Functionality and Contact Details
These features are arguably the most useful to your consumers. It is encouraging for consumers when they are able to get answers in real time and from a real person. These features however are at risk of falling flat if there is no one readily available to correspond with site visitors as and when they are online. If no full time staff is available for this kind of interaction, stick to regular info emails and a contact number
Product Status Reports
This feature allows notifications to be sent to both you and the customer through each stage of the product journey once payment has taken place.  Make or get cancellations, pause orders or or change the product delivery status from 'processing' to 'complete'.
Online shoppers today are increasingly pressed for time with busy daily schedules, Sites like OLX, Amazon and Takealot.com have been performing better each year as a result. In order to become a strong competitor in the online market, it's going to be a smart move for both you and your business revenue generation to invest in a site that brings the product to the consumer, makes itself readily available for information and provides a seamless shopping experience that your consumers will keep coming back to.