13 Sep

Web Design Process In 7 Simple Steps

Having a solid graphic design process helps us deliver better designs. Although the graphic design process is relatively standardized, there are ways to improve the workflow. There are different stages of the graphic design steps we take into consideration when designing a website. Well-designed websites offer much more than just aesthetics, they attract visitors and help people understand the product, company, and branding through a variety of indicators, encompassing visuals, text, and interactions. That means every element of a website needs to work towards a defined goal. Below are 7 short steps we follow at BWD.
Before I break down the steps, let's start by understanding what the design process is.
The graphic design process describes the different stages of a design project. It can be broken down into four sub-processes (definition, creation, feedback, and delivery) and consists of 7 single steps. This approach can be used for almost every design project.
1. Goal identification
 The first step in the creative graphic design process is the creative brief. It helps the designer learn more about the needs of the client. This step is critical since the designer needs to gather as much information as possible about the client, his or her company, and his or her project expectations. We also have questions to explore and answer in this stage of the process, and some of them are as follow:
Who is the site for?

What is the nature of your company or corporation?

What is its core business?

Who are your customers? Where are they? Are your products/services aimed at a particular sex/age/ income range/group?

What existing website is an appeal to the client?
2. Sitemap and Wireframe

The sitemap provides the foundation for any well-designed website. It helps give web designers a clear idea of the website's information architecture and explains the relationships between the various pages and content elements. Building a site without a sitemap is like building a house without a blueprint. And that rarely turns out well. The next step is to sketch the wireframe, although a wireframe doesn't contain any final design elements but it does act as a guide for how the site will ultimately look.
3. Pre-design Process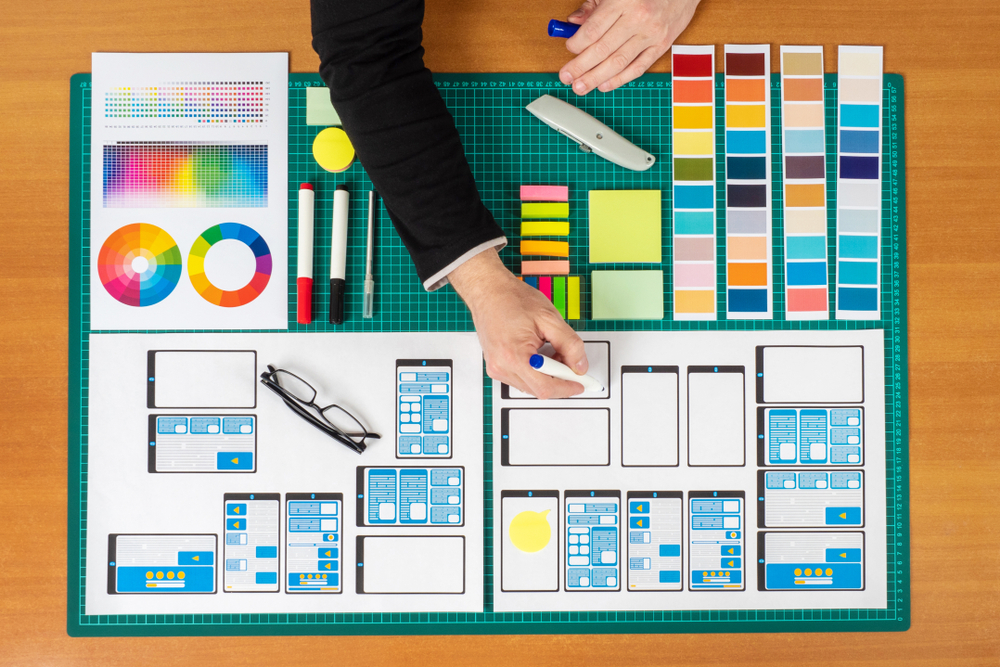 Once we have a good wireframe, we can then start the brainstorming process, research, and mind mapping. This process helps us define how the website will look and how the content and features we defined in the brief will interrelate. Of course, brainstorming means that we then come up with a lot of ideas but at the same time keep our main focus in mind while shooting out designs ideas.
4. Content Creation
Now that we have done our research and brainstorming and we have a bigger picture of the site in mind, we can now start designing the website and work from the backend to the frontend of the website. At this stage, we also focus on how vital it is that we have real content to work with. At this stage, our creative director monitors progress and gives feedback to ensure that we are following the client brief and if the design is going in the right direction.
5. Testing
Once the site has all its visuals and content, we are now ready to test the website. With the rapid change in technology, mobile devices are taking over as the primary way people experience the web which is one of the reasons responsive design is more important. This is the stage where we ensure that the website is responsive on all multimedia devices and designing for multiple devices requires an obsessive focus on details, clear information architecture, and new layout methods of responsiveness.
6. Presentation
"The way you're presenting your work will affect your number of revisions, as well as the related feedback. Of course, it also depends on your clients. Being able to tell a story about your designs will help you influence and convince your client." We take time to properly present our work and we make use of this time to tell a story about the design. We also concentrate on presenting the process of a design in a way that the client will better understand our work
7. Client Approval
We do get revision requests from clients, hence, we gather the feedback, structure it, and implement the needed changes. How we do it? We use email and/or telephone calls between our project manager and clients as communication bases and create a client issue document as it helps us structure feedback and speed up review cycles. After the client approves the website, we then take it to live which is the final process.
Conclusion
Designing and developing a website is no overnight job. It is clear that the numerous steps in the web design process all take time and all the steps need to be followed for things to be done properly, though strong communication between client and agency often helps to reduce it.
Hopefully, this short overview will enable you to better understand the process. Not only will you understand the web design process, but you will be better equipped to communicate with and to assist the design and development team to create a website that both parties can be truly proud of.