30 Jul

6 Website Redesign Plans During COVID-19
When it comes to a website, it is important to keep your website fresh and up to date with the trends and the latest technology being used. Over and above that we have been in a pandemic that has affected us all. This makes it of utmost importance that your website is in tip-top shape during COVID-19
How do you do this though? Well, a website redesign is the best thing you can do for your business.
What do you need to ask yourself before getting started with the redesign? You need to be asking the right questions like:
What is working for your website and what's not working so well? 

When viewers are on your site are they finding what they are looking for and is it useful for them? 

What is your keyword ranking looking like? (Are you up to date with the trends that are happening or do you need to catch up?.) 

Are your original goals and objectives being met?  

How do your competitors match up to you? 
These are questions that you need to be asking when you are considering your website redesign. Once you have successfully answered these questions then you can start to plan your redesign.
Here are 6 planning ideas for redesigning your website during COVID-19
1. Set Realistic Goals
A website redesign is a great way of assessing your website goals, objectives and Key Performance Indicates. This will assist you in establishing why a website redesign is necessary. Breaking down your digital objectives  will give you a good look into your audience segmentation, helping you improve your conversion strategy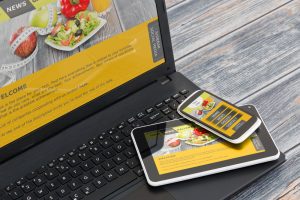 2. Identify your website persona, conduct interviews, and surveys
Your users are the most important part of your redesign, It's the reason you are considering a redesign right? Speaking to your users is important and will help you identify a persona. Who better to ask than your users? What do they want to see, what challenges do they need to solve, how are your solutions solving these problems?
A users primarily concerns are around three main things: 
What am I looking to get for the website?

Is this what I am looking for on the website?

Can I do it on the website? 
The only way you are going to find out what your users are or what they are looking for is if you ask them.
The most important thing is to understand what your primary needs or pain points are. This will assist you in successfully redesigning your website tailor-made to your users. The changes that you make should not be radical. This can involve relabeling navigation or pushing content up to landing pages from subpages. Identifying your persona can help you guide your users in the right direction
3.Use Analytics to research what is your users are doing and how you can improve their experience
Getting the right Data is paramount to your success. You should be using:
Google Search Console

Google Analytics
In order to get an accurate reading of your metrics, it is important to ensure that your channel definition views are correctly set. Not doing this will result in inaccurate metrics and will lead you down the wrong path of designing your website to suit incorrect metrics. This will thus lead to a Goal being set that will not achieve the desired results.
4. Understand How Google Sees Your Content
The way you structure your content is of utmost importance when it comes to ranking on google. How google works are that it tries to understand the internet and sentiment of the content that your sharing which will help it answer the questions that are being asked
So if you are giving google content about website redesign then your content must be related. When someone asks Google "website redesign in my area" then google can answer then my lead then to you.
The moral of the story is to ensure that you are giving Google the right content so that it can answer people with your solutions.

5. Competitive Analysis 
How will you know where you stand if you don't know what your competitors are doing?
When you evaluate your competitors as compared to yourself you will have an idea of how well you are doing and where you can improve.
Tools that you can use to evaluate this are:
6. Meet Accessibility Standards
Your website needs to be easily accessible for all.
The following are what I would refer to as the "low hanging fruit" of things you can address on your website that can make your site more accessible, and thus accessible for all users:
Do images have alt-tags?

Are page headings in a logical order?

Do your forms, such as "Contact Us" have labels in the fields?

Is your color contrast sufficient? (This is a biggie)

Is the page language setting?
Final Thoughts
Here's a brief recap of the steps we discussed above for a  website redesign "light" approach:
Establish Your Goals – know where you are going and how to get there.

The survey, Interview and Define Your Personas – Find out what users want and provide it!

Use Analytics, Goggle Search Console, and Google Tag Manager for Data Benchmarking – make sure you're interpreting correct data.

Understand How Google Sees Your Content – content, and SEO still remain king.

Conduct a Competitive Analysis – it's critical to understand what your competition is doing,

Meet Accessibility Standards – while accessibility is intended to make websites accessible for disabled persons, accessibility makes your website easier to use for all site visitors.