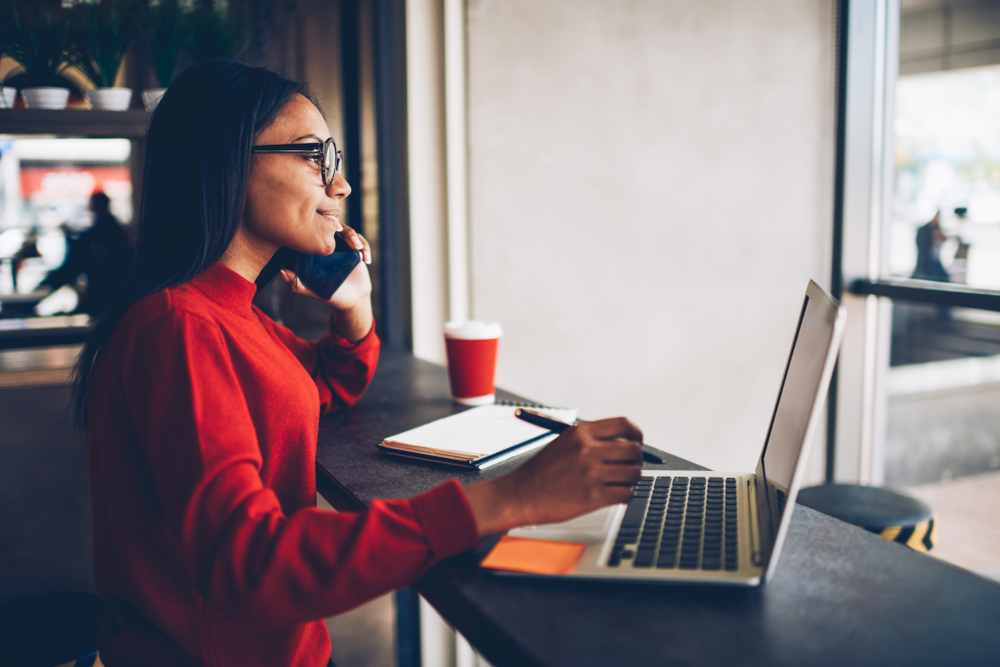 Many aspirational and even professional copywriters think that the more complicated their copy is and the more jargon it includes, the better it is. But more and more content writers seem to think that that type of writing is in the past. The future? Conversational Copywriting.
Think no-hype, jargon-free, relationship-building copy.
Conversational copywriting is one of those rare marketing terms that are actually exactly what it sounds like: copy that mimics a conversation. This type of copywriting is similar to a conversation between people, but not verbatim as in the form of a transcript. When crafting copy like this, think of having a conversation with your ideal reader; visualise the conversation, how it would go, what you would discuss, and how you would keep the conversation interesting.
With conversational copywriting, you are writing a conversation. This allows a writer to be more open, honest and convey exactly what you want to without having to jump through corporate terminology hoops or forcing that sales pitch into the story you're telling. Freedom like this is the dream of many professional writers, and more and more brands are gravitating towards this form of content creation and tonality because consumers prefer it. Social media is a two-way medium, so conversational copy suits these platforms especially well. As the new popular saying goes: "Don't talk at your consumer, talk to them."
If done right, conversational copywriting can help you communicate everything you want in a way that will keep your reader interested. There are, however, a few dos to keep in mind when you are writing your conversational copy.
Here are a few of the tips I feel are the most important.
Keep it simple and clear
One of the biggest mistakes that you can make is to assume that because it's a conversation, it needs to be more complex or longer in terms of word count. Remember: conversational copywriting allows you to clarify and explain things, but this doesn't mean that you have to or need to write for pages on end.
Using complicated language to come across knowledgeable isn't something you would do when talking to a friend. The same principle applies to conversational writing. If you have the tendency to do this, think of it this way: how you would explain what you want to talk about to a friend who doesn't have a lot of knowledge about the subject? Then imagine sitting with them around a table explain it to them.
Find your business's conversational voice
Conversational copywriting is also about letting your customers getting a peek at the people behind the business. Creating that human connection that text often lack. In a world where the majority of marketing messages always come from the business or company instead of the individuals, conversational copywriting can break this barrier.
Having a conversational voice also goes hand-in-hand with the growing demand from customers for your business to be online, social and an active participant in conversations. To do this effectively, your brand needs to have a conversational voice, and this conversational voice needs to be consistent, likeable and engaging.
Tell stories
Stories are something that is innately human. It has been shared from generation to generation, captured history when the written word didn't exist, and today, still intrigues and entertains us. This is why stories form part of our everyday lives and if brands want to play a part of consumers' everyday lives, they need to engage the listener and build trust with storytelling.
The foundation of stories is conversational, but it also has an essence of being genuine and interesting – a good formula for good copy.
Telling more than just the generic sales story, like sharing the true stories of the people behind the brand or business, is much more likely to draw attention.
Don't push
I've made this point before, but it's so important. Conversational writing mimics you would speak when talking to a friend. Unfortunately, we often forget that we can easily push too hard on certain points when selling our brand or business. If you sell or push too hard, your readers can easily fall into that age-old 'fight or flight' response. This is a natural response to something coming across as threatening.
Almost at the opposite spectrum of hard-selling copywriting styles is conversational writing. Instead of creating negative emotions like irritation, the conversation, or the story, needs to signal that you can be trusted and are being honest.
Time to relax
The best part of conversational copywriting is that it is supposed to be fun and easy because you're writing from the heart. So, stop, take a minute, visualise the conversation and who you are speaking to.
As Ernest Hemingway said: "Good writing is good conversation, only more so." If you want to crack this type of writing, don't write – rather have a chat with your customer.