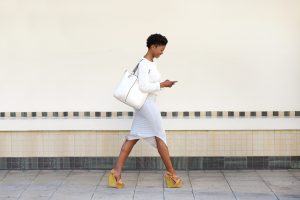 Regardless of your industry, you will have to eventually have to give in. The opportunities that come with social media are endless. If you want people to know who you are, then it's important to put yourself on these social media platforms and exploit them to the fullest. Social media is not a fad, people. It is real and it is happening, fast. If Facebook were a country, it would be the 3rd largest country in the world, after China and India. That should give you an indication of how many people you will have access to. How can you expect to get ahead if you are not engaging with your customers? Your customer are online. You should be too.
Before we get into the nitty gritty, let's talk about social media. By definition it is just a manner of communication and a means to interact online with your stakeholders and consumers. Over the past 10 years, social media continues to expands and explode. Social media platforms are increasing as well as the number of people using them.  It is a way to decrease the gap between your business and your consumers. People have access to information instantly and can engage with it at any time. Let your social media to sell for you. You will be able to promote yourself without even leaving the office or your home. The key to this is ensuring that you manage your social media successfully.
The consumer experience, which has always been important has shifted onto a different space. The business has to shift with it so that they ensure that they can still contribute to the consumer experience.  If your business has no online presence then the likelihood of people recognising your brand decreases. This ultimately means that people will not be talking about your brand.
Your social media should be an extension of your current brand. Social media cannot replace it. It merely solidifies your brand and projects it forward. Embracing the online space opens up even more doors. Your company can elevate themselves further by considering branding, SEO, public relations, sales and so much more. Ultimately, the end goal is building relationships with your online customers. Relationships grow the more you cultivate them and the cultivation process occurs on social media.  The relationships you build will lead to advocacy and loyalty. Advocacy occurs when people start sharing and commenting on your brand without a technical intervention or call-to-action from the business. This is when your consumers start doing the advertising for you. Who doesn't want that?
The benefits and opportunities are becoming more apparent, aren't they? Feedback from your target market is almost instant. People are communicating and sharing at all times all across the world. Your store is never truly closed. Trading hours are going to be a thing of the past. This is good for business. Your brand presence grows while you sleep at night. Sounds good to me, get involved. That feedback can become a part of the phase of product development. Social listening or feedback can also act as a warning and save you costs on customer service. Remember, social media needs to be a part of your marketing, branding, PR and advertising efforts. It needs thought and time. Integration is the way forward. This where we, BWD Advertising, comes into play.
What we can do for you.
The business of social media is so much more than marketing. For you to use social media effectively, content is required. Meaningful and authentic content. Content creation is a big deal now, it's a necessity now. Your social media presence and the audience's engagement with it can help you determine what your target market's needs and wants are.
Your content creation can fall under these categories "Learn and Improve", "Explore and Discover" and "Question and Answer."  These are the types of content that could be created depending on the needs and wants of the customers.
Learn and Improve
This kind of content makes your customer's lives easier and better by optimising their tasks. You are building authority, driving connections and increasing engagement.
Explore and Discover
Here, you help the customer's use your product more creatively. Offer them ideas and breed ideation and community.
Question and Answer
This content serves to meet the customers' support needs. Have your solutions ready for when something goes wrong. There will always be a customer who needs answers. Set up a forum thread on resolving technical issues, or we can do it for you.
Believe it or not, there are analytical tools that measure the conversations that are being had over various social media platforms. This is a major starting point for content creation. Listening to these conversations will reap great benefits for your business and its brand. Let us listen for you. BWD Advertising has got you!
Pop in, in a few days. I'll have more for you on content creation. When you grow, we grow.